How do you transform operations to become a truly real-time health system?
OPM CAN DO THAT.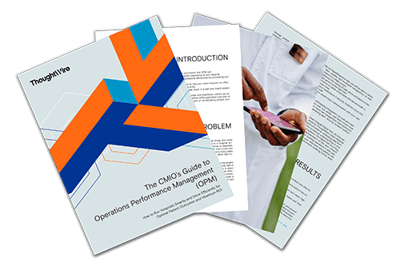 Learn exactly how OPM can help your hospital become more self-directed, run more efficiently and get better patient outcomes. Download the CMIO's Guide to OPM now.
Hospitals are under enormous pressure to operate more cost-effectively and efficiently, with the ultimate goal of increased patient satisfaction and better outcomes.
The Internet of Things (IoT) is being touted as the answer, but alone it is only half of the solution. Without a people-driven approach, disparate systems cannot effectively "talk to each other" and cannot be used to their full potential to unlock savings and realize value.
Operations Performance Management (OPM) applications provide the other half of the solution. By unlocking the real potential of IoT, OPM applications enable life-changing results and real business outcomes.
In this eBook, you'll learn how OPM can:
Improve patient experience at your hospital

Increase operational efficiencies by automating processes

Reduce costs to help your smart hospital run effectively and efficiently

Get your hospital closer to a real-time health system
See how other hospitals and healthcare centers are already using ThoughtWire's OPM application solutions to usher in a new approach of orchestrating people, process, and things.
Fill out the form and download your exclusive, free copy of the CMIO's Guide to OPM now.