Go beyond efficiency to truly transform how buildings are managed, optimized and experienced by leveraging an integrated solution that unlocks the value of IoT.
OPM CAN DO THAT.
Learn exactly how OPM can help your building run more efficiently, provide a world-class tenant experience and increase asset value. Download the Asset Manager's Guide to OPM now.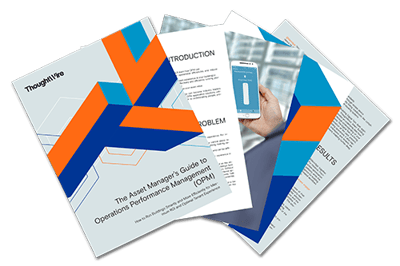 To increase asset value in today's digital age, commercial real estate (CRE) buildings are vying to save operational and energy costs while providing world-class tenant experiences.
The Internet of Things (IoT) is being touted as the answer, but alone it is only half of the solution. Without a people-driven approach, disparate systems cannot effectively "talk to each other" and cannot be used to their full potential to unlock savings and realize value.
Operations Performance Management (OPM) applications provide the other half of the solution. By unlocking the real value of IoT, OPM applications enable impactful results and real business outcomes.
In this eBook, you'll learn how OPM can:
Increase your operational efficiencies and reduce your costs

Improve the tenant experience at your building(s)

Assist you in effectively and efficiently running your smart building(s)

Ultimately increase your asset value
See how CRE buildings can become industry leaders through ThoughtWire's OPM application solutions, ushering in a new approach to orchestrating people, process, and things.
Fill out the form and download your exclusive, free copy of the Asset Manager's Guide to OPM now.